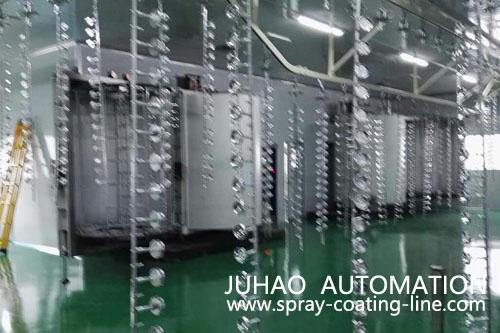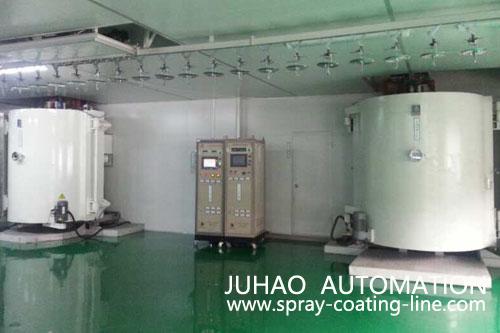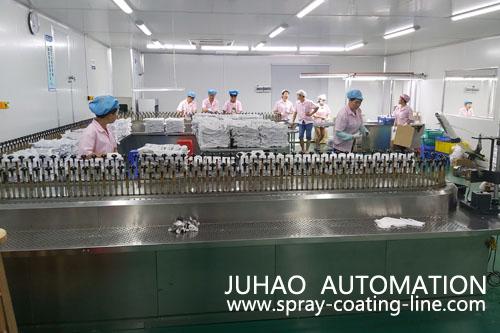 Vacuum Coater – the core part of plastic metallization system. It's technically known as vacuum evaporation, pvd coating or vacuum plating, it's revolutional machine comparing traditional water plating equipments. Zero environment pollution but same quality of water plating, vacuum machine is standard choice of plastic metallization in mordern world.
Vacuum coating line
The most important part to give products shinning and long life cycle with high quality physical properties such as anti scratch and environment change etc. high quality painting treatment decides the final product quality.
There will be different choice for coating line configuration depends the paint selection. You must choose the suitable base coat and top coat. In case you selected the incorrect paint, contacts between coating layer and plastic surface will not be stable.
The popular choice is UV painting line for high quality painting together with vacuum metallization. Either the uv base coat or top coat will be very sticky. The most important part is the speed can be very fast for mass production purpose. Instead of long time heating in oven for pu or other coatings, UV coating can be flashable curing by uv light.
Mainly Application
Plastic decorative coating
Film Type
Semitransparent film, non-conducting film, gold, silver, red, blue, green, purple, seven color, etc.
Power source Type
Thermal evaporation power, ion bombard power, RF power
Vacuum chamber structure
Vertical double/single door, horizontal single door, pump system postposition
Ultimate vacuum
8.0*10

-3

Pa
Vacuum system
Diffusion pump +Roots pump +Mechanical pump +Holding pump
Pump time
Pump from atmosphere to 5.0*10

-2

,6 minutes
Workpiece motion mode
Public rotation/Frequency control
Control mode
Manual/Automatic all-in-one mode, Touching screen+PLC
compress air
the pressure is 5~6kg.
water-cooling system
Cool water 5~25 supplier,the flux is 5T/H and the pressure is 0.15~0.25MPa.
Features
Bright delicate aluminum coating, coating speed, simple operation, equipment stability, and the production of high-grade plastic decoration products indispensable a necessary equipment.
ecause of this, automatic uv coating line installation size will be pretty small comparing to heat based coating line. UV coating line main parameters overview
IR oven & UV oven
1, Ceramic/stainless steel heating pipes for IR oven
2, TEM: RT~100 degree
3, Pramac UV lamps(5.6KW each one)
4, Mirror stainless steel inner wall
5, T50mm rock wood thermal insulation
6, China motor
7, OMRON Temperature card
Line control system
1, PLC touching screen
2, air switch&overload ensure
3, Taiwan power switch&indicator light
4, Taiwan pneumatic elements&Magnetism valve
5, Taiwan frequency speed converter(UV oven independent control)
For more information, please contact us and we can provide custom line setup to fulfill your