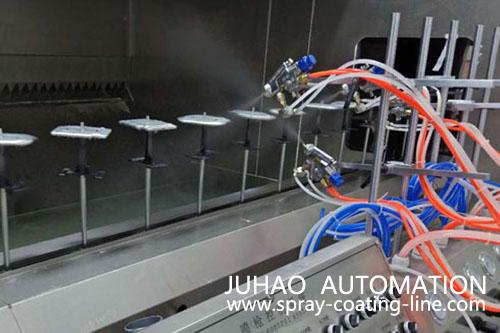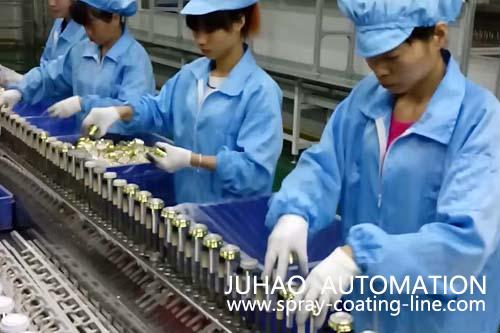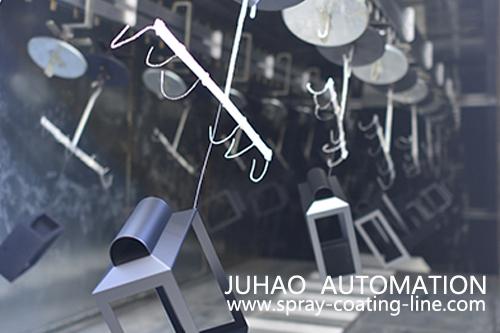 Types of Spraying Production Line
Robot Spraying Line, Fixed Spraying Gun Spraying Line, Spraying Line, Planar Reciprocating Spraying Line, Stereoscopic Spraying Line Small automatic spraying line
Process flow of spraying production line
Upper conveyor chain - preheating dehumidification - electrostatic precipitation - primer - leveling - drying - cooling - lower parts (non-standard customization)
Composition and Structure of Spraying Production Line
Artificial upper and lower parts, automatic conveyor line, manual dust removal, preheating and dehumidification treatment, electrostatic automatic dust removal, automatic spraying equipment, dust-free spraying room, paint mist removal system, constant temperature and humidity air supply system, high efficiency pressure equalizer, product surface leveling, drying tunnel furnace, natural air cooling system, central control system, waste water and waste gas treatment system, etc.
Advantages of Dajia Spraying Production Line
1. Fully automatic production, the whole line production personnel only need 4 general workers and 1 mechanic can produce, effectively saving a lot of labor costs.
2. The overall surface coating of the product is uniform with high accuracy, and the qualified rate of the product is more than 95%.
3. Flexible control of spraying size can save 20% of the amount of paint.
4. The automatic spraying equipment has fast production rhythm and can work 24 hours without interruption. Its output is 3-5 times that of manual work.
8. High output, fully digital computer operation, memorable data storage parameters, humanized graphical display interface. The operation efficiency is five times faster than the manual speed and the operation accuracy is 0.2 mm. The coating accuracy is 0.2-1 mm. The coating is uniform, without bubbles, waves and smooth surface. The flow rate of paint can be controlled and material waste can be saved.
9. Spraying debugging is very simple. Generally, the workpiece debugging is completed in 10 minutes, which reduces the time of proofing and the digital memory of spraying conditions, and reduces the dependence on technicians.
10. In the absence of any intervention, the process of automatic operation or control according to prescribed procedures or instructions aims to be "stable", "accurate", "fast", and to save factory costs and the number of production workers.
11. It can control the flow rhythm of the line body, improve the speed of production and assembly, shorten the production cycle, there is no idle process, and the production process is clear.
12. Spraying operations reduce the proportion of handling, improve production efficiency, ensure product quality, give full play to production capacity, improve the management level of relevant departments, and improve shipment and asset operation.
13. Increasing productivity, stabilizing and improving product quality, improving working conditions, reducing production area, reducing production costs and shortening production cycle;